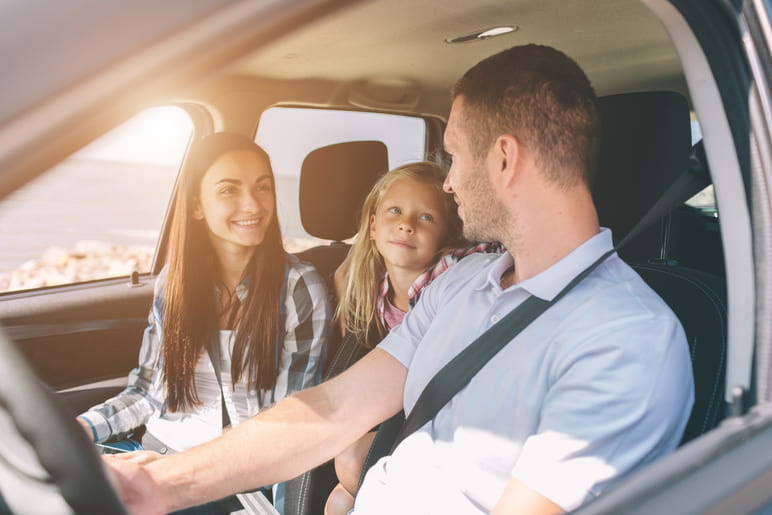 There's a car for every phase in life. Whether it's the second-hand car you learn to drive in, or the hard-earned upgrade after bagging that new job, every car plays a different role. So when it's time to start or add to a family, you better make sure you've got the right car for the job. This is going to be the car you make countless school runs in, watch your children grow out of their booster seats, and probably have to endure many repetitions of 'are we there yet' on family holidays in. Not any old car can handle that and this is why we've put together a list of the best family cars in the UK.
Lots of different types of car made the cut, including SUVs, hatchbacks, and estate cars, so whether you are searching for the best family cars for camping or the best family cars on a budget to save some money to test it out on a family vacation, we have something that's for you.
Main Characteristics of a family car
As we've already mentioned, not just any car can make a good family car. As well as the usual expectations you would have of a car, like its performance, durability, reliability, and its appearance, family cars have got to have a little something extra to step up to the challenge of being your family unit's trusty steed.
When considering which we think are the best family cars 2020, we took 4 main qualities into account.
Back seat space
One of the most important factors is how much space there is in the back of a family car. Cramped back seats are always going to lead to school run squabbles and make holiday driving feel interminable. Not to mention the space that will be needed for baby or booster seats, or the irritation that can be caused when there is no middle seat, family cars are going to need a lot of space in the back and the boot for the weekly shop, bulging bags, pushchairs, and everything else that comes along with a family.
Good child safety
Efficient performance and practicality aren't enough for a family car. It has got to be safe too. Luckily, most cars come equipped with some excellent safety features as standard and many of those on this list have some of the most up to date ways of keeping your children safe. These features go far beyond simple child locks and adequate space for child seats that were expected in older vehicles. Some of the features you should look out for are active stability systems and brake assist to help limit passengers being jolted around, window switches and power windows with an anti-pinch or auto-reversing system to protect children's hands, and ISOFIX or LATCH system to help child safety seats to be quickly and safely secured.


Fuel Economy
As with any car these days, having a good fuel economy can help differentiate between a run of the mill vehicle and the best in class. For a family car, it's doubly important for keeping costs down and making sure that you don't have to fill up as regularly, saving yourself some time. A good target when considering fuel economy is to try and find a car that does around 40 miles to the gallon. 40 miles per gallon will give you a decent range and won't break the bank. Best of all, most of the 40mpg cars on our list are surprisingly affordable, so you won't have to spend a fortune on your new fuel-efficient family hauler.
Inexpensive to maintain
Having a family is a little bit like taking out a phone contract – they always come with an abundance of costs that you had no idea about before you signed up for it. It's vitally important, therefore, that when choosing a car you try and pick one that isn't going to be one of the expenses. This means that the cars on our list are reliable and aren't likely to break down, will have parts that can be replaced inexpensively, and their maintenance (the type of oil needed, for example) isn't going to eat into your family budget more than it needs to.
Best family cars in UK
1. Kia Ceed Estate
Kia has a reputation for being as good as anything out there and the Ceed is no exception. This affordable hatchback is one of the best family cars for 5 with impressive technical features equipped as standard on either a 1.0 or 1.4-litre petrol or 1.6-litre diesel engine. These will do between 52 and 74mpg respectively.
2. Dacia Duster
Getting some of the best family cars cheap is a real challenge, but the Dacia Duster almost cannot be beaten for space and practicality, especially given the outstandingly affordable price tag. It might be missing some technology, but the sacrifices are worth it and it will certainly get you, your family, and all your kit where you need to go.
3. Toyota Corolla
This incredibly modern and attractive hatchback might seem a touch pricey, starting at £24,140, but this does give you a hybrid powertrain and a powerful 2.0-litre engine, with 16 inch alloys, adaptive cruise control, a 4.2″ TFT screen between the dials, and heated front seats with lumbar support as standard, offering excellent comfort for all the family.
4. Ford Galaxy
The Galaxy has long been a staple for families and this doesn't seem set to change. On the latest model they have increased the interior space to make it even more roomy and packed it out with tons of luxury features. If you're looking for one of the best family 7 seater cars with comfort and style, look no further.
5. Subaru Outback
The Subaru Outback offers a practical and reliable alternative to SUVs and sedans, offering excellent boot space, good ground clearance, and even some off-road capability to make it a great car for family adventures. The 2.5-liter or turbocharged 2.4-litre offer some great horsepower, but only 33mpg.
6. Volkswagen Touran
The Touran is made for family life and comes with seven seats as standard. The second and third rows can be collapsed to create a flat floor. With five seats in place there's up to 917 litres of boot room on offer. You can also fit three Isofix child seats in the second row, and two more in the back.
7. Vauxhall Zafira Tourer
The Zafira tourer is a more upmarket compact MPV with three rows of cleverly-folding seats and is possibly the best-looking MPV out there. Starting at the relatively affordable £21k, the ecoFlex stop-start diesel version now averages nearly 69mpg, which results in decidedly tax-friendly CO2 levels. Even the 1.4-litre will do around 45mpg.
8. Volkswagen Multivan
The VW Multivan isn't so much a big car as a small room. You can actually stand up and walk around when you are in it, as the mid section is enormous and perfect for a large or growing family. The seats also swivel around and you can move them back and forth on tracks. It's a truly versatile family car.
9. Renault Traffic
The Renault Trafic is a great all-round vehicle that is popular in Europe and has generous equipment levels to make it a comfortable ride for all the family. It has an efficient engine and very responsive automatic gearbox that will take the stress out of driving, even if the kids don't.